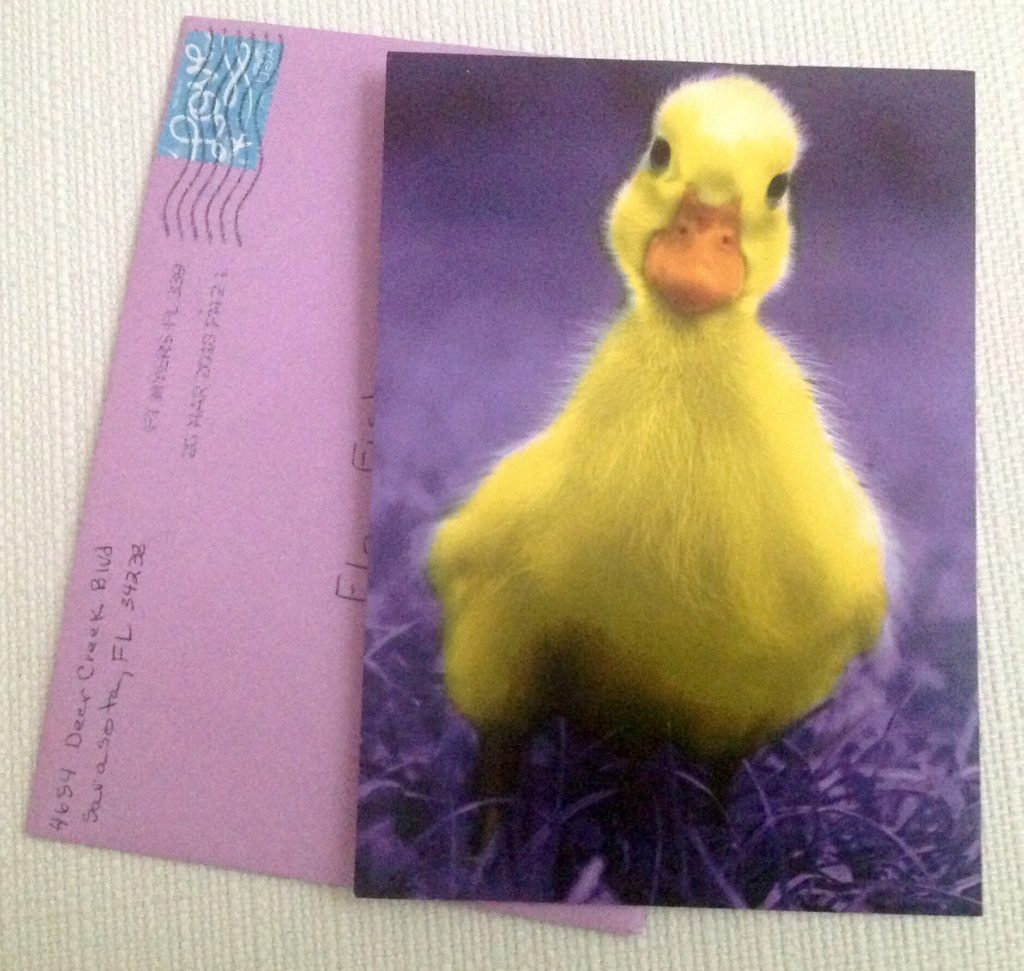 This little yellow fur ball says HAPPY EASTER
It is a beautiful warm sunny April 1st at 4649 Deer Creek Blvd in Sarasota Florida as we gather around the table on the lanai overlooking the pool.
My daughter Pamela has set our table while my son-in-law Tracy Drake is preparing his own birthday food, Alaskan King Crab. While her pan of broccoli is steaming, Pamela prepares a bowl of fresh fruit, watermelon, cantaloupe, strawberries, grapes and more.
When I heard Tracy give out the call that the king Crab was ready it didn't take me long to get out the kitchen door with my walker and get seated ready to make my tummy really happy. It is EASTER Sunday and since Tracy's birthday is tomorrow we are celebrating both today. Being Tracy's birthday Alaskan King Crab was his choice but it is my favorite food bar none.
Pamela brought in the melted butter containers that sit in a little rack over a lighted candle, placed one by each of your plates and we all began devouring crab dipped in butter. After an extended time of silence Tracy said, " You can tell when the food is really good. No one is talking." YUM!
Everyone's tummy full and smiling, Pamela brings out the two layer carrot birthday cake with cream cheese icing she had made from scratch yesterday and six lighted candles. Now it's "Happy birthday to you ? Happy Birthday to you? Happy birthday dear Tracy ? Happy birthday to you ? AND MANY MORE ?. it only took one blow to put out the candles YEH!
As soon as Pamela has started cutting the cake, that is when we remembered, Oh no!!
We were all enjoying this little party so much we forgot all about recording it with photos.So here we go now. Pamela gets my IPad and starts snapping,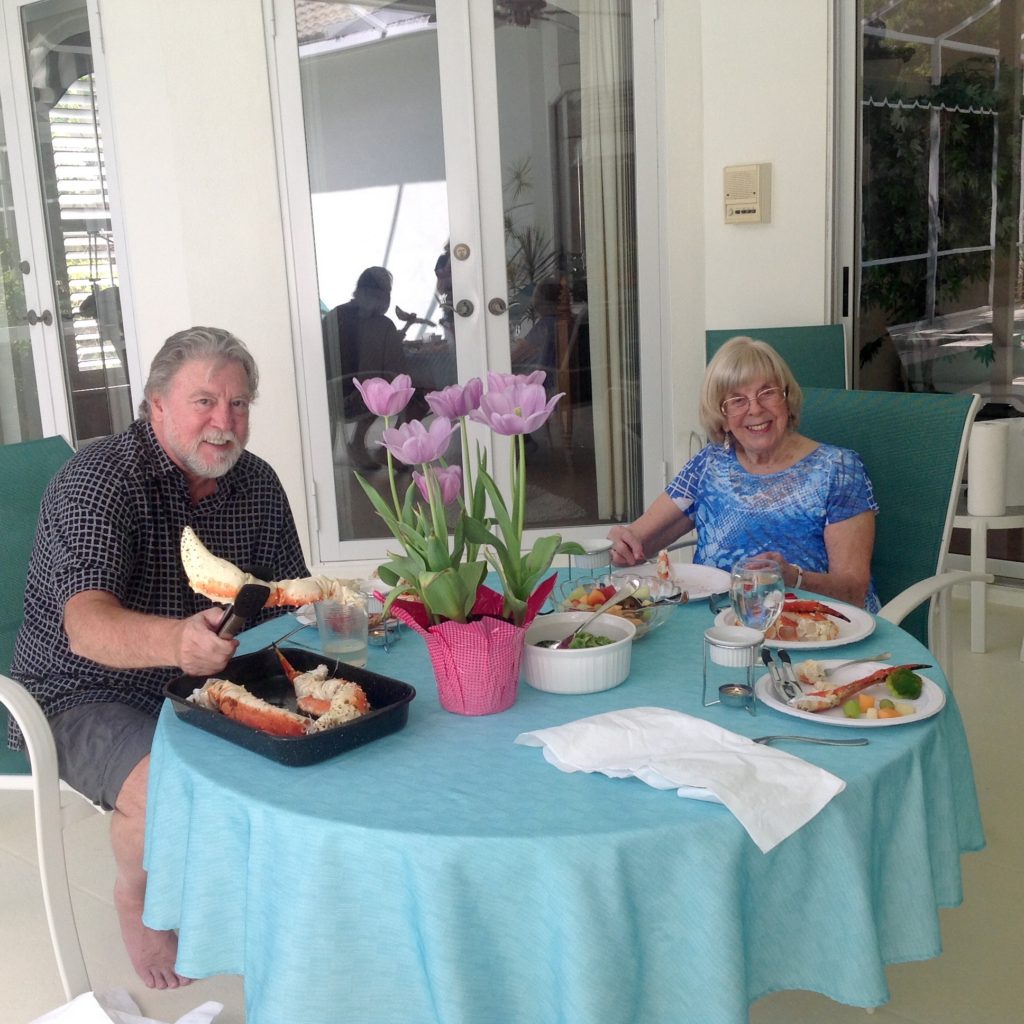 Tracy is showing you an Alaskan King Crab claw. Two of them were left over because my granddaughter Sarah has the flu so she and her friend Ado couldn't come down from Tampa where they live and work.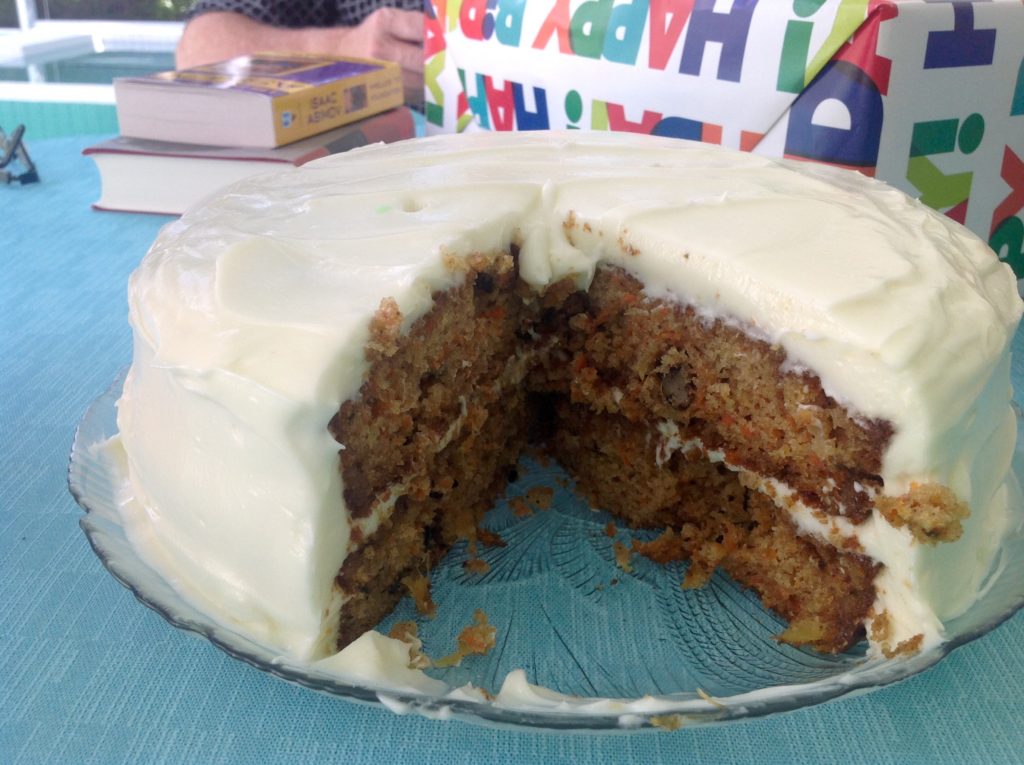 OH YUM! That cake is soooo delicious it simply melts in your mouth, I gotta say PAM YOU DONE GOOD!
Oh the party isn't over, it's gift opening time now and Pamela brings them out to the lanai table. The first one he opens the card first and it is from his daughter Evin and her husband Matt Bender,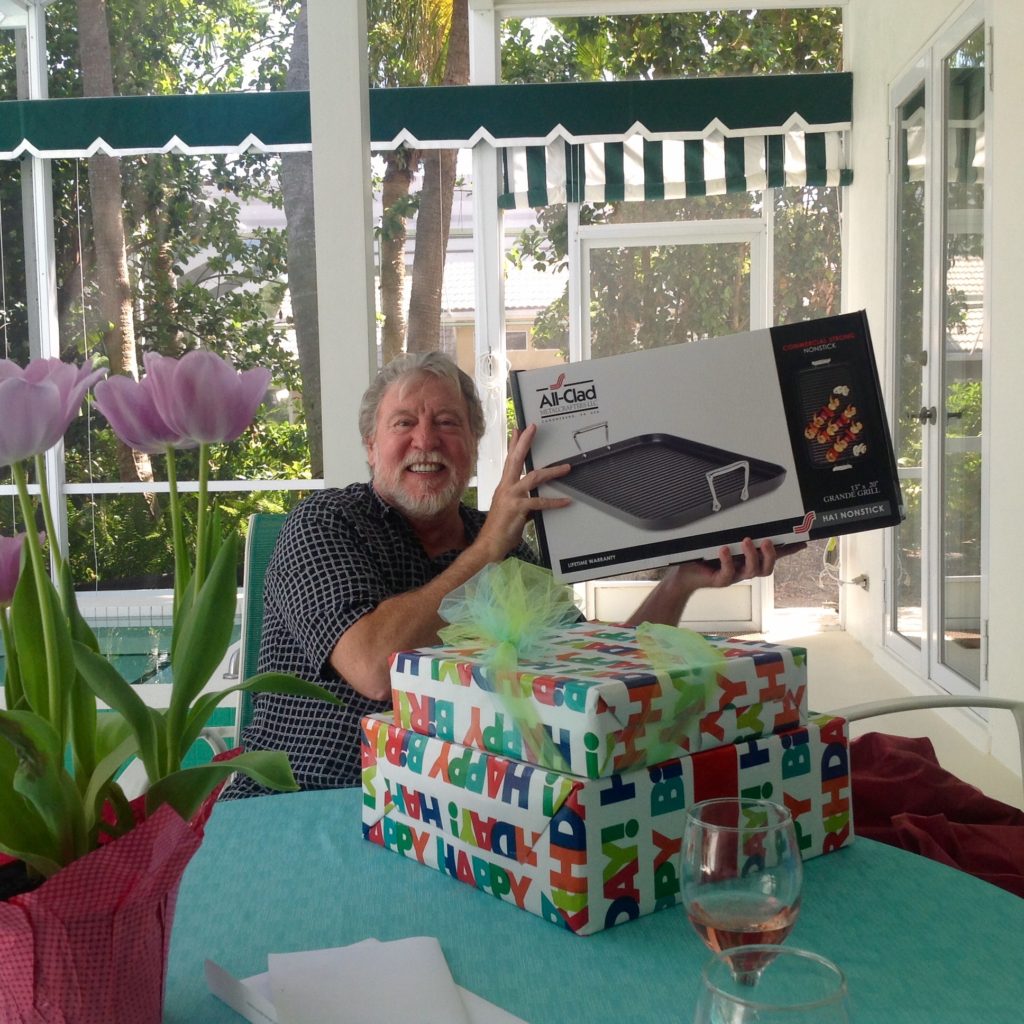 A new grill, how fortunate because he ruined the one he had using excessive heat and had to throw it away. A great gift!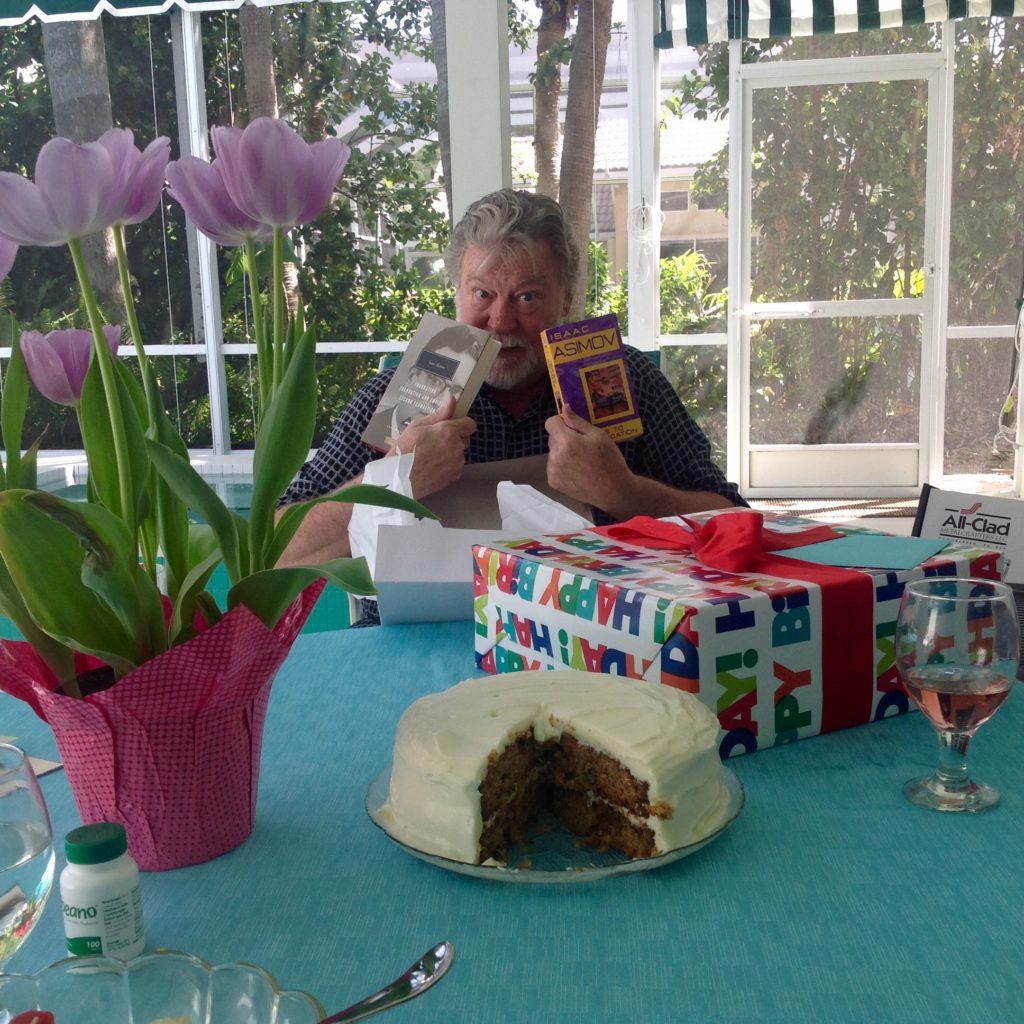 And from his mother-in-law, me, a couple of his favorite books. Tracy has been an avid reader since childhood!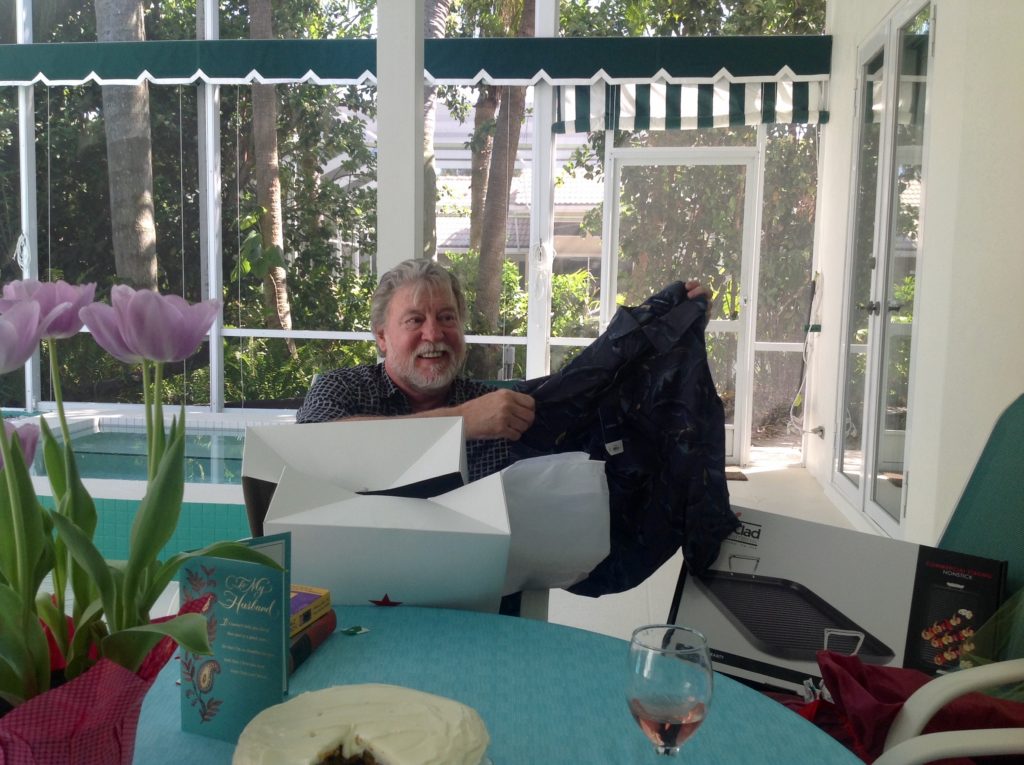 From Pamela that beautiful shirt and two pair of pants . Who could ask for anything more?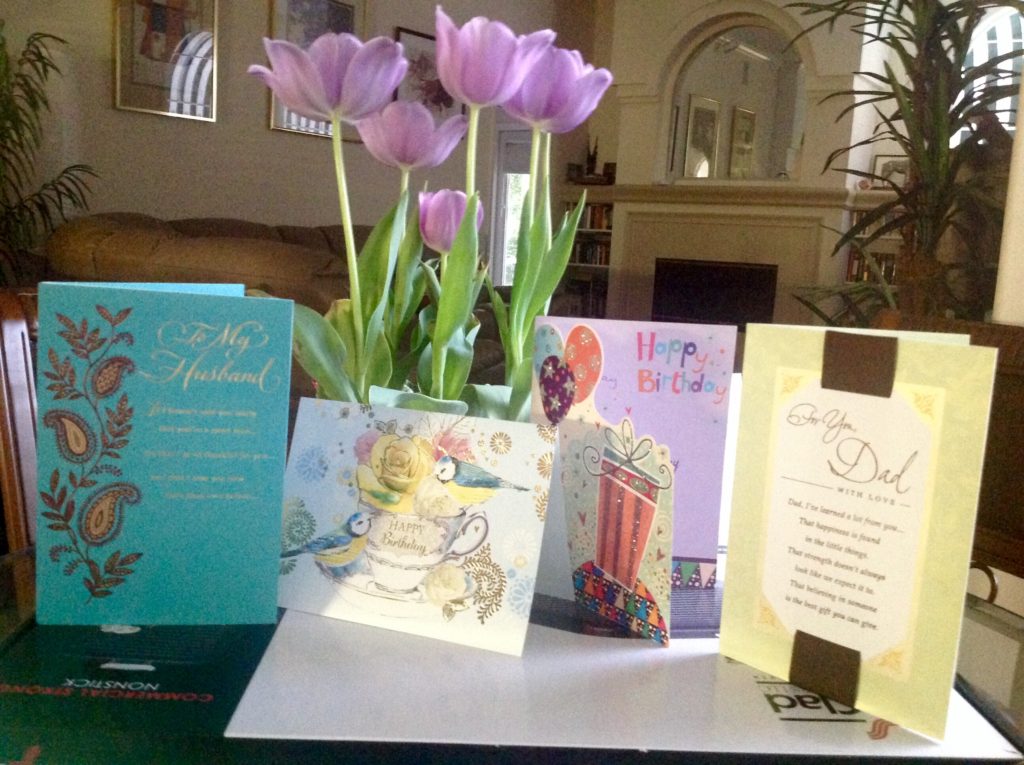 Have a look see at his birthday cards………
Wait! All those pictures were taken by Pamela and showed you Tracy and some of his 95 year old Mother-in-law, me, but no pictures of Pamela. Soooooooo her goes…….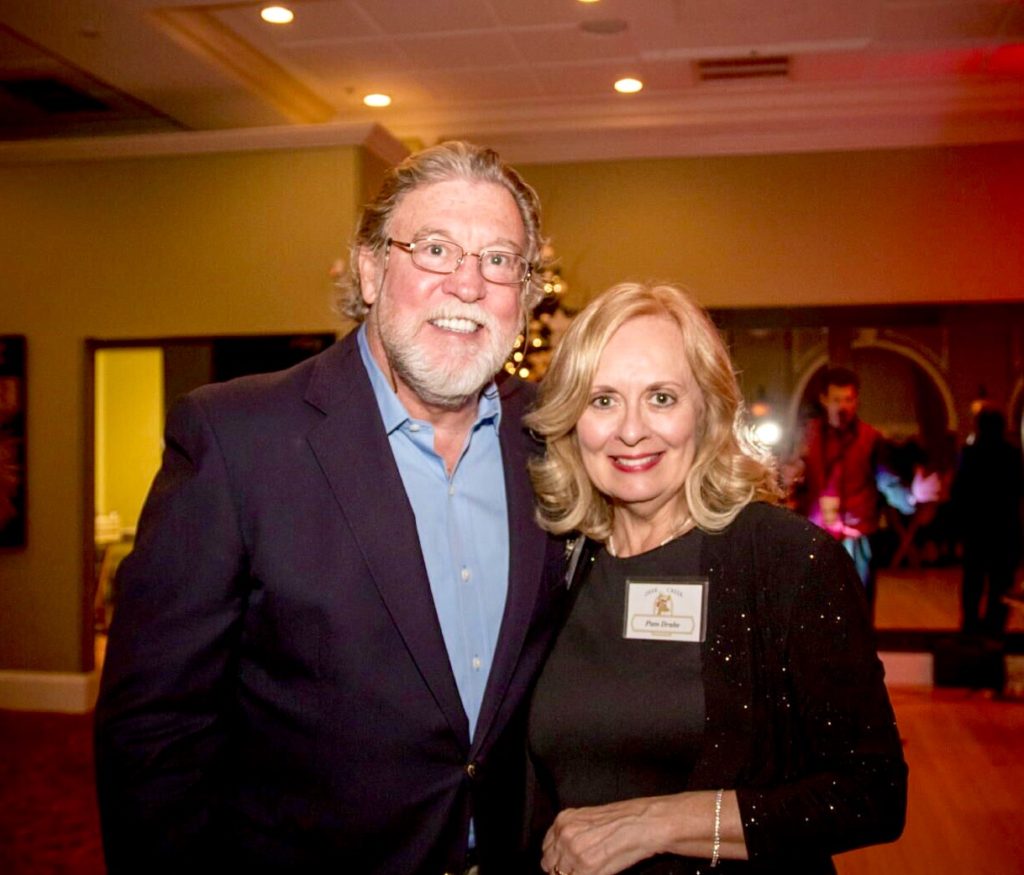 Tracy and Pamela in Sarasota a night out on the town!!! If I do say so, A BEAUTIFUL couple!!
FRF❤