In my search for ancestors, from Nannie B Nimmo who wrote "The Rockholds of Early Maryland" I learned that Robert Rockhold the son came to America from Fitzhead England in the year of 1634. His father also named Robert Rockhold remained in England.
(1) My many greats grandfather Robert, the son, married Sarah Greniffe and they had a son John Rockhold.
(2) John Rockhold married Mary Richardson and their son Charles Rockhold was born in Maryland in 1685
(3) Charles Rockhold married Elizabeth Wright and their son John Rockhold was born in1711 in Maryland.
(4) John Rockhold married Elizabeth Talbot and their son Jacob Rockhold was born August 27 1740 in Maryland.
(5) Jacob Rockhold married Elizabeth unknown and their son Jacob was born March 7, 1770 in Maryland.
(6) Jacob Rockhold married Eleanor Rutledge and they had 10 children. Their first born was William Rockhold born September 20, 1791.
(7) William Rockhold married Ann Collett and they had two children Elisha John Rockhold born November 11,1827 and Mary Matilda born February 24 1829. William died April 19, 1886 in Muskingum county Ohio.
(8) Elisha John Rockhold married Elizabeth Louisa Miller June 13, 1858. They both died in Union County Ohio, they were my grand parents on my father's side.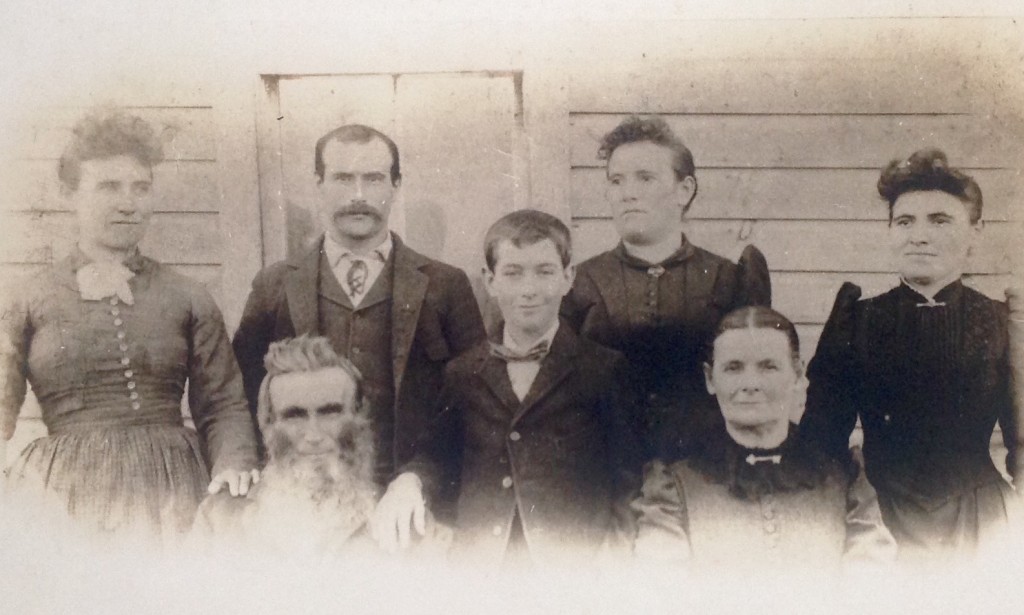 Back row Aunt Mary Matilda, Uncle Will Rockhold, Aunt Jane, Aunt Laura  seated Grampa Elisha Rockhold standing my father Levi Gilbert Rockhold sitting Gramma Louisa Rockhold
My father Levi was 17 years old when his mother Louisa died. Louisa was 40 years old when my father was born the baby of the family . His sister my Aunt Mary Matilda Bowen told me since he was so much younger than his siblings they had all spoiled him.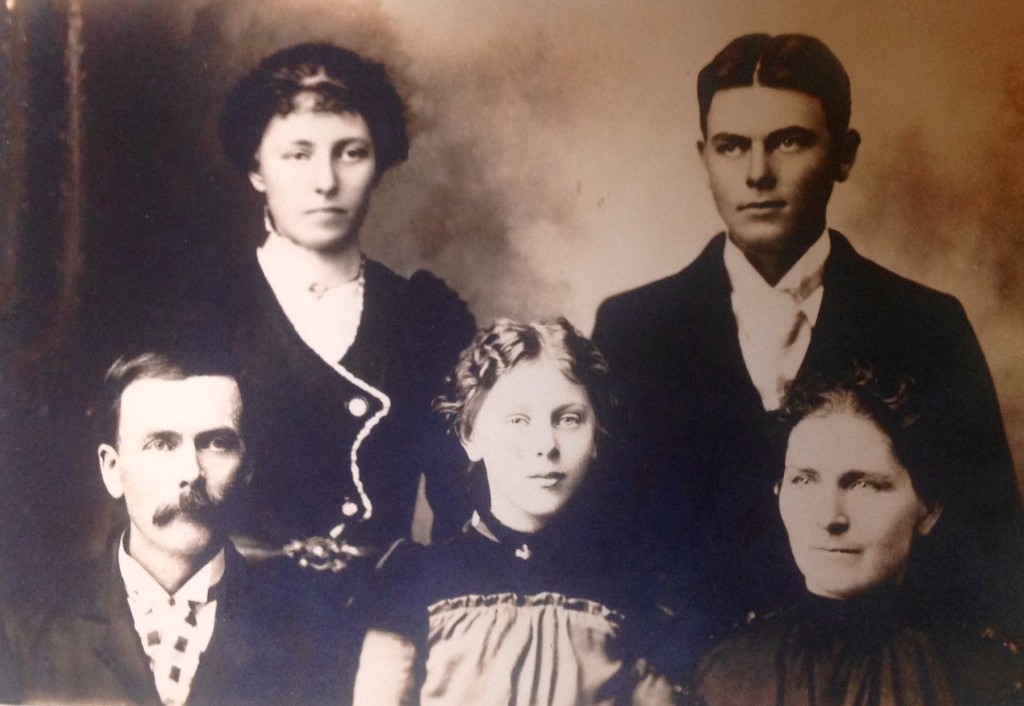 Standing my mother Mary Etta Longbery Rockhold , Uncle Elmer Longberry sitting Grampa Perry Longberry, Aunt Bertha Longberry Rish, Gramma Louisa Longberry
(9) Levi Gilbert Rockhold married Mary Etta Longberry and they had13 children.
(1) John  (2) Carl (3) Edith (4)Mabel (5) Geneva (6) Burl (7) Bee (8) Edna (9) Hazel (Bobbie) (10) Fannie (11) Earnest (Ernie) (12) Florence (me) (13) Howard (Bugs)
Levi and Mary Etta Rockhold had over 50 grandchildren. So to those of my nieces and nephews who are still living this is how you got to be AMERICANS.
I'm PROUD TO BE AN AMERICAN land of the USA!!!!!!!!! It was just 14 years after the Famous MAYFLOWER ship LANDED IN Massachusetts that our many greats grandfather Robert Rockhold landed at Baltimore Harbor.
When my granddaughter Evin was in school her teacher ask whose relative came to this country first and she was the one whose relative did. In fact HER MANY GREATS GRANDFATHER CAME TO AMERICA log before anyone else in her class.
If you do a search of you ancestors you may find a grandparent who came to America way back when…………….
YOU MIGHT GET A DELIGHTFUL SURPRISE!!!!!!!!!!!!!!
FRF❤️