I have to hand it to Salem Ohio hospital for their SPECIAL NURSING for getting their patients ready to take care of themselves while living alone when returning to their homes.
After about ten days in the hospital we are taken to the SPECIAL NURSING section where the they have an exercise room and full kitchen combined. We patients    were taken there each morning.
Besides the nurses putting us through many different exercises, while there we also did some food preparations. I found it interesting watching this one elderly male patients peel potatoes. Another patient preparing other food.
I felt very fortunate that my job was to make cupcakes according to a recipe by the cooking nurse.
First as per her instructions I used a yellow cake mix to make cupcakes. As soon as they cooled to room temperature I punched tiny holes in each of the cupcakes and filled them with cherry jello using a teaspoon to drizzle the liquid jello over the cakes.  Then into the fridge to cool. And I should tell you….the hospital furnished all the food supplies.
So………when they were chilled the kitchen nurse got a tube of whip cream brought in from the hospital main kitchen and I topped these cupcakes with whip cream.
And here is my finished prize……….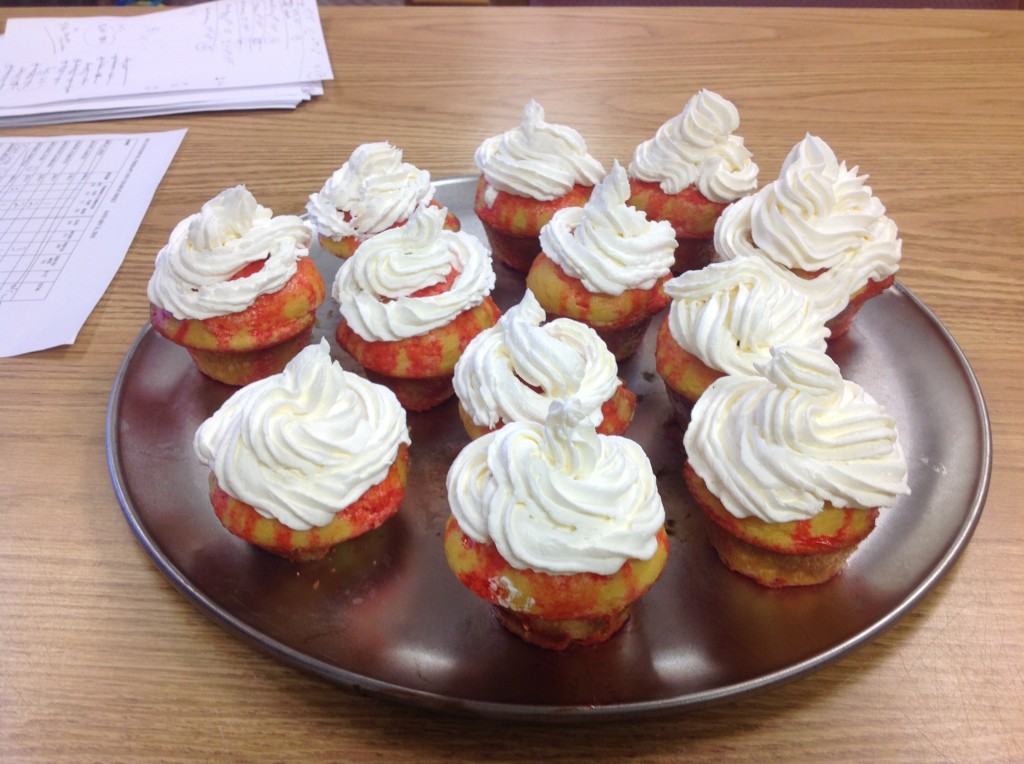 And …….others there along with me enjoyed these delicious fruits of my labor. This was over a year ago.
But you know what????? Finally……I am going to purchase a Duncan Hines yellow cake mix, a box of cherry jello and a can of whip cream.
And……….I am going to make A BATCH OF THOSE DELICIOUS CUPCAKES!!!!!!!!!!
YUM!!!!!  YUM!!!!!!!
FRF❤️