My mother-in-law Dale Shoup made the best sugar cookies I have ever tasted by far. So……I decided to use that cookie recipe for raisin filled cookies.
This is her recipe handed down through her family.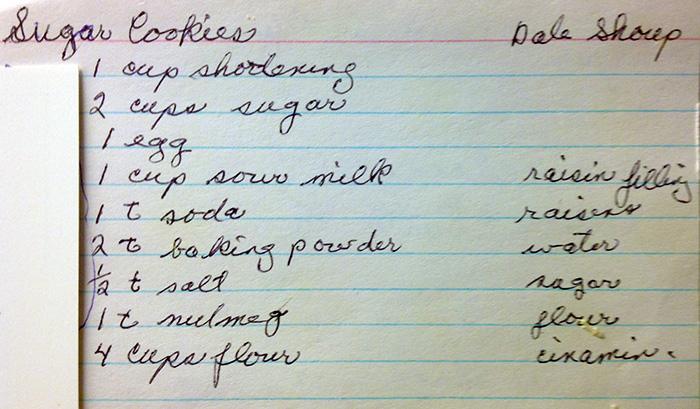 I add a tablespoon of butter to make the cup of crisco shortening. I add a tablespoon of vinegar then finish filling the cup with regular milk as a substitute for sour milk.
Beat sugar and shortening until creamy add egg and beat again. Mix all dry ingredients together and add alternately with milk starting and ending with flour.
Place bowl of dough covered in fridge for 2 hours to chill. Makes it easier to handle when rolling out.
I make the raisin filling and allow to cool.
Roll out the dough, use round cookie cutter and with a spatula place cookie on a baking sheet about an inch apart. Spoon raisin filling in the center of each cookie then top with another cookie pressing down around the edges. Sprinkle top with cinnamon and sugar. I make my own sugar with cinnamon mix and keep it in a large shaker.
I make the filling by first boiling two cups raisins with one cup water until tender, to make a white sauce mix together one half cup sugar, one
tablespoon cornstarch,a little cinnamon then add one half cup cold water plus one tablespoon lemon juice, add this mixture to the raisins and boil until it thickens. I don't put it in my fridge but allow it to cool on my counter. It may still be warm when you add it to the center of the cookie.
These cookies are delicious eaten while still warm. I like to give them to neighbors very soon after baking them.
My children have good memories of eating my baked cookies, cupcakes and pies etc  while still warm from the oven.
Much thanks to my mother-in-law Dale  Shoup for her family sugar cookie recipe. I never learned how many generations that recipe came down through, it would be interesting to know.
Share with family and neighbors. They also freeze quite well.
FRF❤️