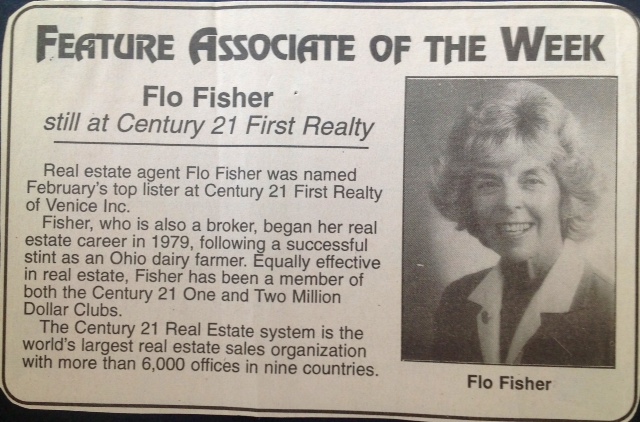 It was mid morning in my real estate office as a young agent got up from his desk and came over to where I was preparing my showing for a new buyer. He said "Flo I can list property but I just can't seem to sell it. I have never even written a contact for anyone. I'm showing houses to buyers this afternoon and would you please tell me how to do it?"
This was a salesman who thought he had to talk a buyer into purchasing a house and it hadn't worked. He was pleading for help.
So……OK! Here goes! "When you get to the door of the house you are showing, you enter first to make sure everything is kopascetic like no dogs. Then as you go room to room walking behind them so you don't obstruct their view, don't talk unless they ask you a question then answer in as few words as possible so as not to interrupt their train of thought."
" You don't sell the buyers a house. Buyers choose a house just like people choose a husband or wife, it's by feelings. By staying behind them and with little talking you are allowing them to pick up on how they feel about the house. If it is not the right one they move rather quickly through, so go on to the next house"
I had one lady who ran through the houses so fast that I could hardly keep up with her. If the owner was home it was embarrassing. Finally at the right house, after slowly walking all the way room to room and we are back in the living room where we had started, she sat down on the sofa and it took me almost an hour to get her up off of that sofa so we could go back to my office and write up a contract.
SHE HAD ALREADY MOVED IN!!!!!!!!!!
Later that afternoon that young salesman came back to me with a big smile and said "I just sold my first house." WE HAD A VERY HAPPY SALESMAN!!!!!!!!
On another occasion another salesman in my office said "I have four houses set up to show my buyers that are what they ask for but I was wandering if I could throw in a "fixer upper" that I have just listed?"
I told him " I often put in a house that is not quite what they ask for because you can never predict what a buyer will decide to buy! One time after staying within their suggested price range and them not liking anything I showed them, I raised the price of the houses I was preparing to show them the next day without telling my buyers and they purchased one of these higher priced houses." The less expensive houses were not as nice as they wanted.
Later that day walking toward me with a mile-wide smile he said "Flo……they bought my "fixer-upper" listing." He had a "double whammy". All the seven percent commission coming to our office and he gets sixty percent of that for selling his own listing.
The couple who later had purchased the beautiful first home that my husband Wayne and I had built in Sorrento East called and said, "We have been trying to sell this house by owner but haven't had any luck doing so. If you will come over and tell us what to do and in two weeks we haven't yet sold we will list it with you."
So I was seated in their living room with the two of them and as I looked around I said, "Are you ready to start moving furniture?" To which I got a resounding "Yes!" And we all stood up and went to work rearranging their living room and screened lanai that had several glass doors dividing the two rooms. Hey, this is the house I had ordered built! I had lived two happy years in this lovely home.
We pulled open all those glass doors that was like removing a wall, we moved the furniture so it looked like one big indoor outdoor room which made it very inviting. And then I told them, as I had the agent in my office who couldn't sell, to stay behind the buyers and do very little talking. They called me long before that two weeks were up and said they had sold, thank you very much!!!!!
So you see, I talked myself right out of a listing.
I had just listed a lovely home in Sorrento South on a canal and the first time I showed their home they were there and could hear me as I took the buyers through. They called me after the showing and said after listening as I went through their home I had sold it back to them and they canceled my listing.
I'll have to revise what I said before to…..YOU CAN NEVER PREDICT WHAT A BUYER OR SELLER WILL DO!!!!!!!!!
OK! Back to the drawing board………….This is what they don't teach you in Real Estate classes. YOU DON'T REALLY SELL A HOUSE because the right house for your buyer will SELL ITSELF IF YOU JUST STAY OUT OF THEIR WAY!!!!!!!!!!!!!
An after thought: Here is a photo my daughter Pamela took as she cruised along the street in a bus on her way to Cannes along the French Riviera.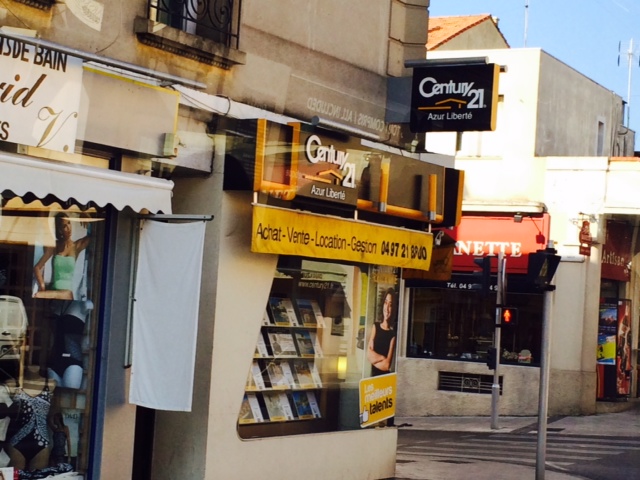 And another one