My family often gave me a doll for christmas or my birthday or just for the heck of it, no special reason at all. I soon had well over a hundred dolls in my collection. So it was quite the norm when Joey and Meredythe fly to Florida for Christmas week they gave me a doll with extra clothes in a doll suitcase.
It was an adorable set. After a few years I started giving some of those dolls to certain ones of my family. And that little doll Meredythe and Joey had given me actually looked like their daughter and my granddaughter Jodi so who better to have that doll.
When Jodi was little I had made her a set of clothes for one of her dolls. So I decide to discard the extra clothes that came with the doll, make a few new outfits for this little doll that looked like her, buy a couple new pair of shoes and socks, put them all in that little doll suit case and present them to my granddaughter Jodi for a keepsake.
This is the doll and doll clothes I made for Jodi.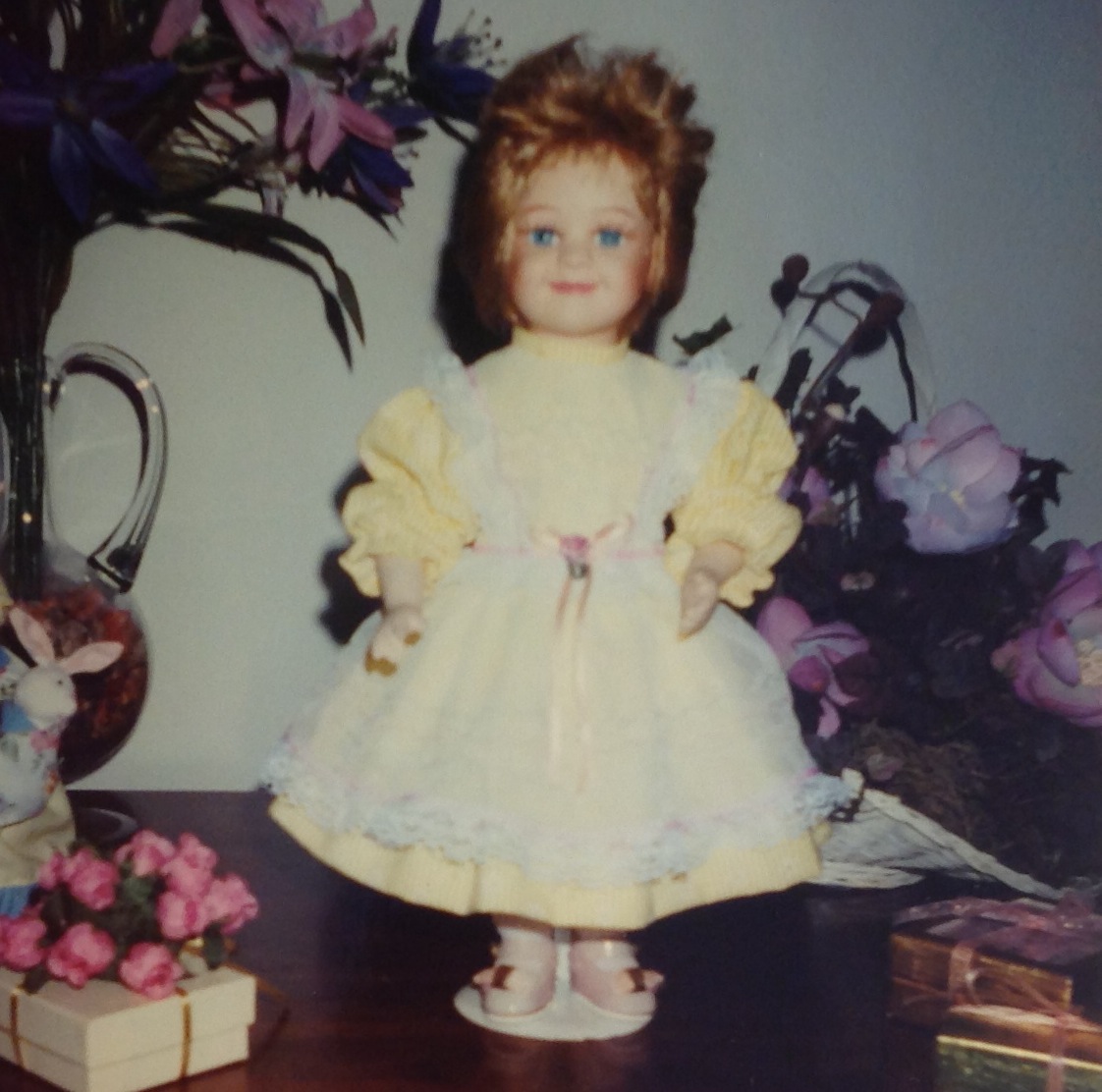 The little white nylon pinafore is trimmed in pink and her little slippers are pink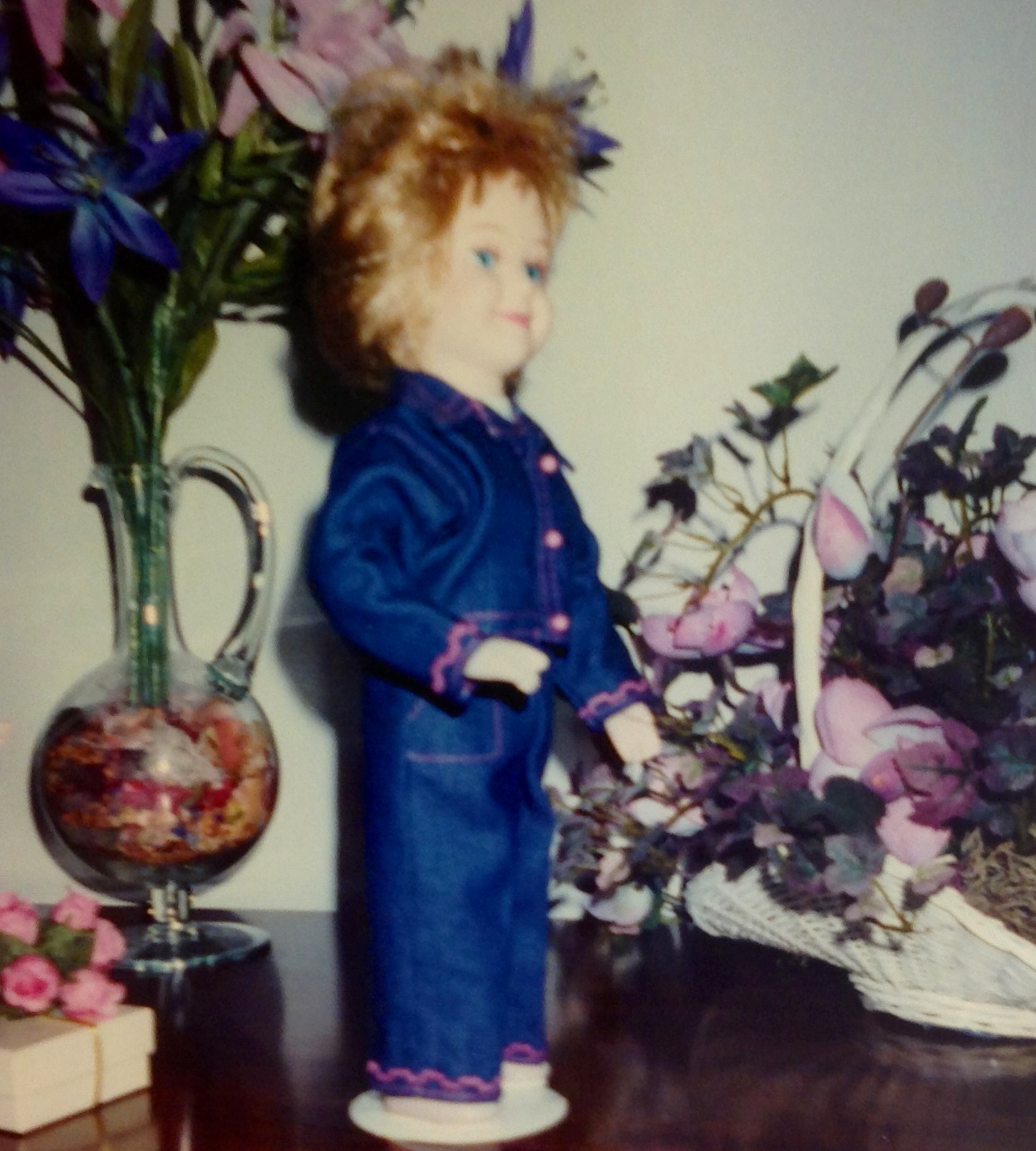 She is wearing the same pair of pink shoes to match the pink trim on this blue denim jacket and overall set.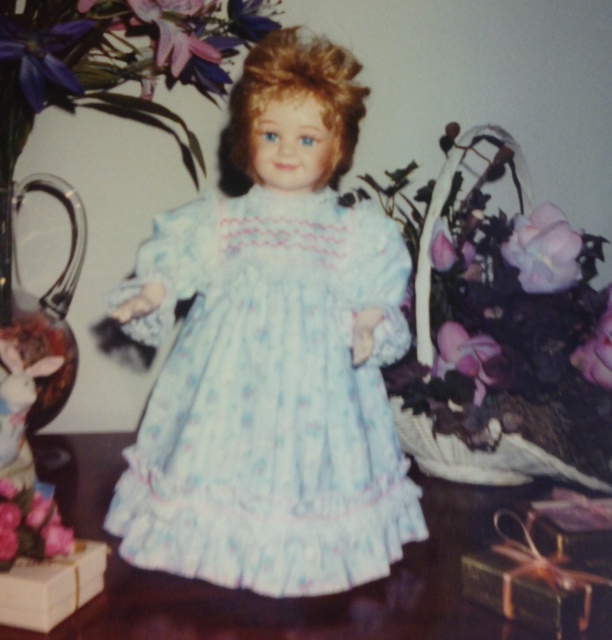 Jodi had a little daughter Holli who I knew would probably try to play with that doll so I decided to purchase a doll from Walmart that also came with an extra outfit which I discarded, all at the tender price of $9.98, make a few outfits for it and give that to little Holli so she would not play with the keepsake I was giving her mother Jodi.
This is the doll and doll clothes I made for my little Great Granddaughter Holli.
"OK now Mom, are you ready for this????" That was the phone call a few weeks later from Meredythe relating to me what happened "I just saw Holli dragging her doll around through the mud". NOT TO WORRY……..at least they are not the doll clothes I made for her mother.
Some times I smarten up and do the right thing after all. And this was one of those times. Yeh! Rah! Rah! for me!!!!!!!!!!!!!!!!!!!!!
An after thought: I design and cut the patterns for all the doll clothes I have made over these many years……JUST IN CASE YOU ARE WONDERING WHERE I GOT MY PATTERNS!!!!!!!!!!!!!!!!!!!
FRF ♥