It's gonna take some clever packing to get all these evening clothes in one suitcase. And besides……I need things to wear in the day time. OK! So I'll just take two bags, already!
My husband Wayne and I had made friends with two delightful couples at the Dance classes held at a Hollidaysburg Dinner Club. It wasn't long until we three couples decided to take a ten day excursion on a Holland American cruise ship, stopping at five beautiful islands on our way to Caracas Venezuela on the northern coast of South America.
We came up with this great idea that we should do something together for the "passenger participation in the show" night. It is kinda like an amateur contest.
My husband and I had done this on another cruise in the Caribbean. We didn't win a prize but it was fun. They gave us material to make costumes and their band supplied the music to accompany our little act. We were given crepe paper that we used to make green grass Hawaian skirts and flower leis.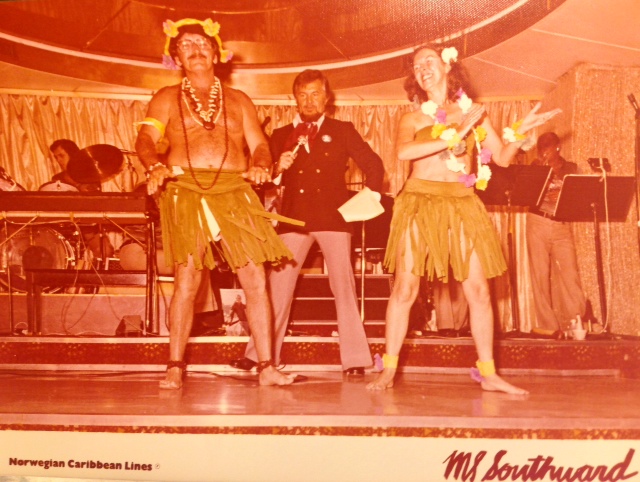 For this cruise we all decided to do the ALLY CAT LINE DANCE. Our little group met a few times for rehearsal at our home where we moved the furniture out of the way in our large family room to practice the routine until "HEY, YOU KNOW WHAT? WE ARE GETTING PRETTY GOOD!"
So…….concluding packing, we all meet at Pittsburgh airport, grab a plane to Fort Lauderdale Florida, where we all board the ship and SET SAIL SOUTH!!!!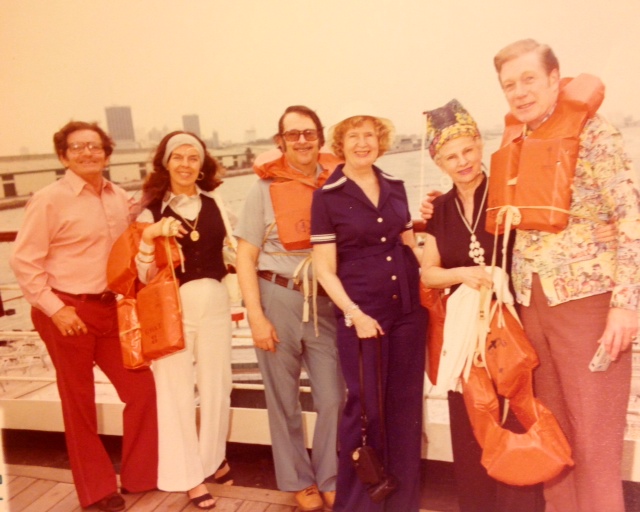 One of the delights of a cruise is that every night there is a great band for dancing which makes it especially enjoyable for all of our little group since we had just completed all those dance classes together.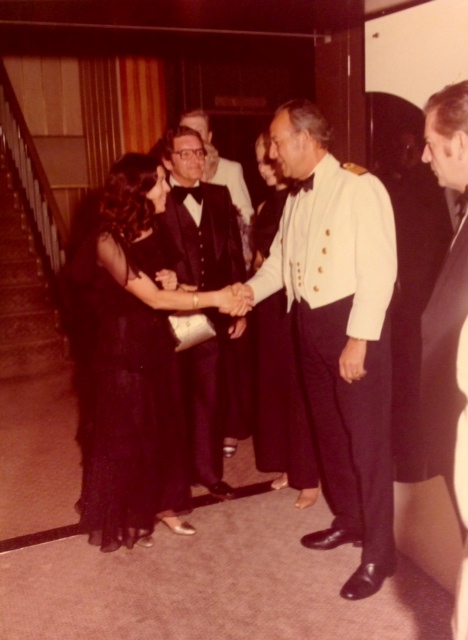 That's right! It's……every one "Meets the Captain Night" as we enter the dining room for a mouth watering delicious dinner!!
On the French Island of Martinique I notice some of the men keep parading past the French girls lying on lounge chairs around the pool sunbathing topless!! Hey! Why don't we American women smart up and do as the French women do.
Of all the Islands, I thought Barbados was the most beautiful! It was lush with bushes of beautiful flowers and many palm trees.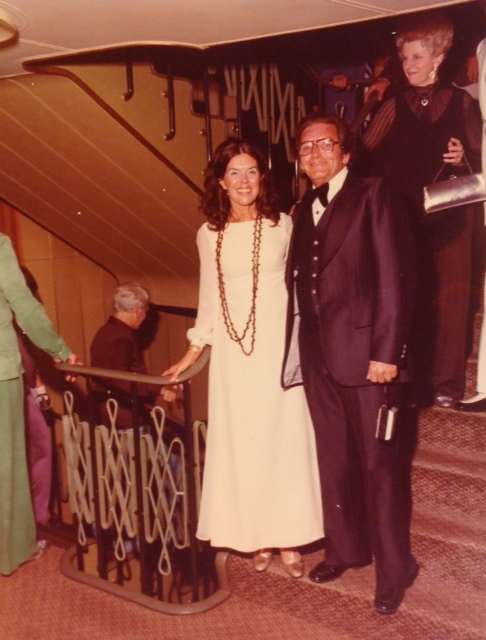 It is perfect dinner table seating for the six of us as we start our lovely evening with a most delicious meal before our evening of dancing.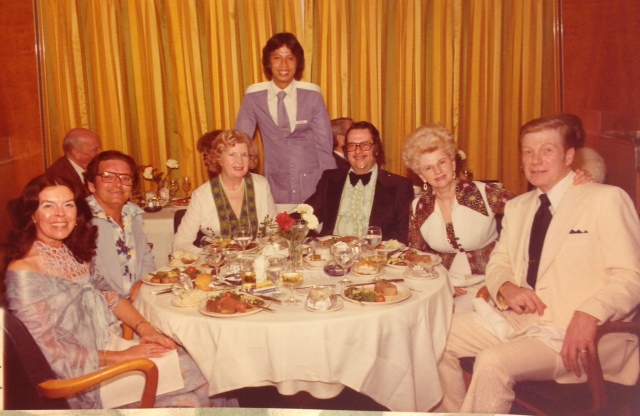 You can always be sure when on a cruise, the food will be supremely delicious.  But I have to say, the night they bring out the FLAMING BAKED ALASKA IS A BREATH TAKING PERFORMANCE! About fifteen or so waiters, one right after another come parading through the dining room each holding a FLAMING BAKED ALASKA HIGH IN THE AIR over their heads as they circle the room, before serving them.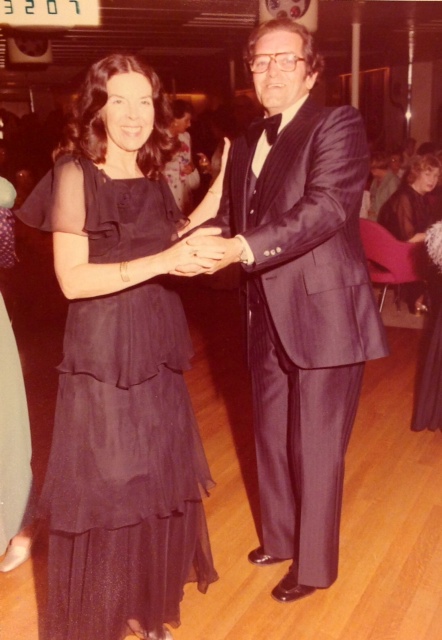 And now we are, each of us, going to dance until midnight. It is especially important after devouring all that delicious food. Even then, every cruise I always gained eight or ten pounds. Well…..what can I say? Everything has a down side. How-some-ever?
Now…..how does that song go…..I like to ACCENTUATE THE POSITIVE, ELIMINATE THE NEGATIVE, LATCH ONTO THE AFFIRMATIVE, DON'T MESS WITH MR IN-BETWEEN!
Now for the finale, all six of us, dressed in our BLACK CAT outfits, head for the passenger participation night! See our cat's ears head dress and….yes….we had tails too!!!!!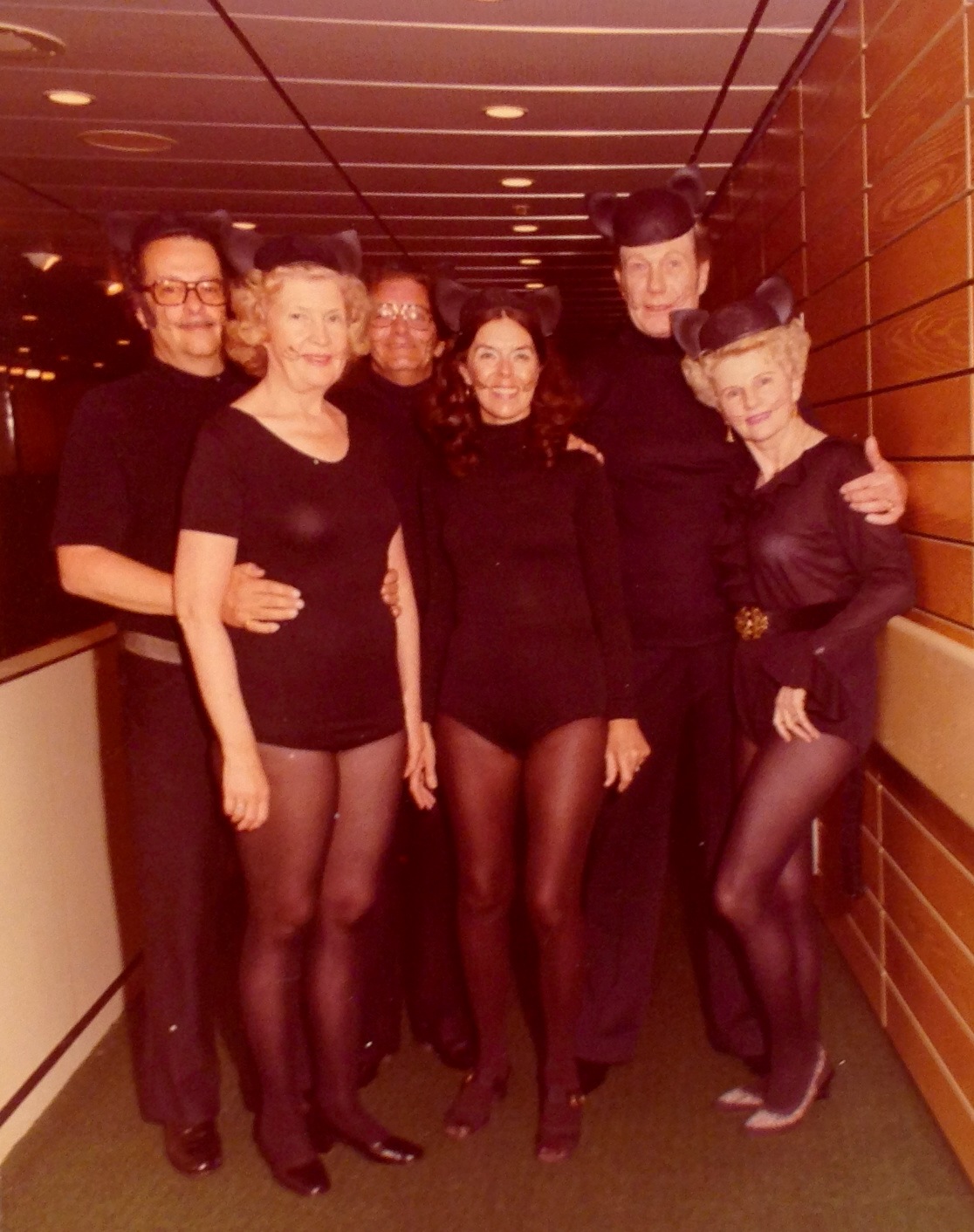 While the band played our song, we formed a pyramid! Yours truly front and center, (I never outgrew my desire for center stage) the other two ladies next and our husbands formed the last line, as we "line-danced" our delightful little number THE ALLEY CAT! AND……WE WON A PRIZE!
We were each given a beach towel monogrammed with the name and a picture of the ship HOLLAND AMERICAN!
This cruise turned out to be an ABSOLUTELY, POSITIVELY, EXCITING, FUN FILLED VACATION!!!!!!!!!!!!!!!!!
FRF ♥