Have you ever attended a wedding at the Hawaiian Wedding Cave on the Island of Kauai? Would you like to? Well… come along with me on a journey.
Sometime after being widowed, I went on tour to Hawaii. It was January 1971. After returning home, I rented my farm land to a local farmer and moved to Park Forest, Illinois where my daughter Susie lived.
I was very fortunate to be hired in an Oral Surgery office where I worked as a Doctor's assistant for three Oral Surgeons. After all those years of work on my dairy farm, this seemed like too much fun to be work. And they paid me for having a good time every day. How lucky could I get??
After a little over a year I had a call from a man who had been a member of my tour group in Hawaii. He asked me to meet him in New York City for a weeks vacation. He was from Altoona, Pennsylvania and was driving in to New York City.
Hey! What the heck! Why not! So I flew from Chicago O'Hare airport to La Guardia New Jersey airport where he met me. From La Guardia, you immediately take the George Washington bridge across the Hudson River and you are in New York City.
Three days there and we became engaged to be married. We set the date three months away, September 30, 1972. And, where to be married? Well……..The Hawaiian Wedding Cave!!!!!!!!!! Of course!!!!!!!!!
One of the secretaries at work found the phone number for the Smith Motorboat Company, who does these weddings. I called their office in Hawaii. Can you believe the girl who answered the phone in that Hawaiian office put me on hold for fifteen minutes? I held! Then having made the arrangements……….IT'S A GO FLO!!!!!!
In 1972 the island of Kauai didn't have a runway long enough for International flights to land, so we fly to Honolulu where we take an 'Island Hop' plane to Kauai. There the Smith Motorboat Company takes over with a small boat, just the right size for our little wedding party, a retired Philippino Minister, Hawaiian lady and gentleman attendants, a photographer, the boat pilot and us.
Dressed in our wedding attire, a white orchid in my hair, each wearing a 'lei' made of orchid hearts, we cruise up the Wailua River which takes about twenty minutes. Our Hawaiian attendants singing beautiful native songs while accompanied with his 'ukulele' (a small Hawaiian guitar) and her 'mandolin', makes it a most delightful journey to the Fern Grotto where the cave is located.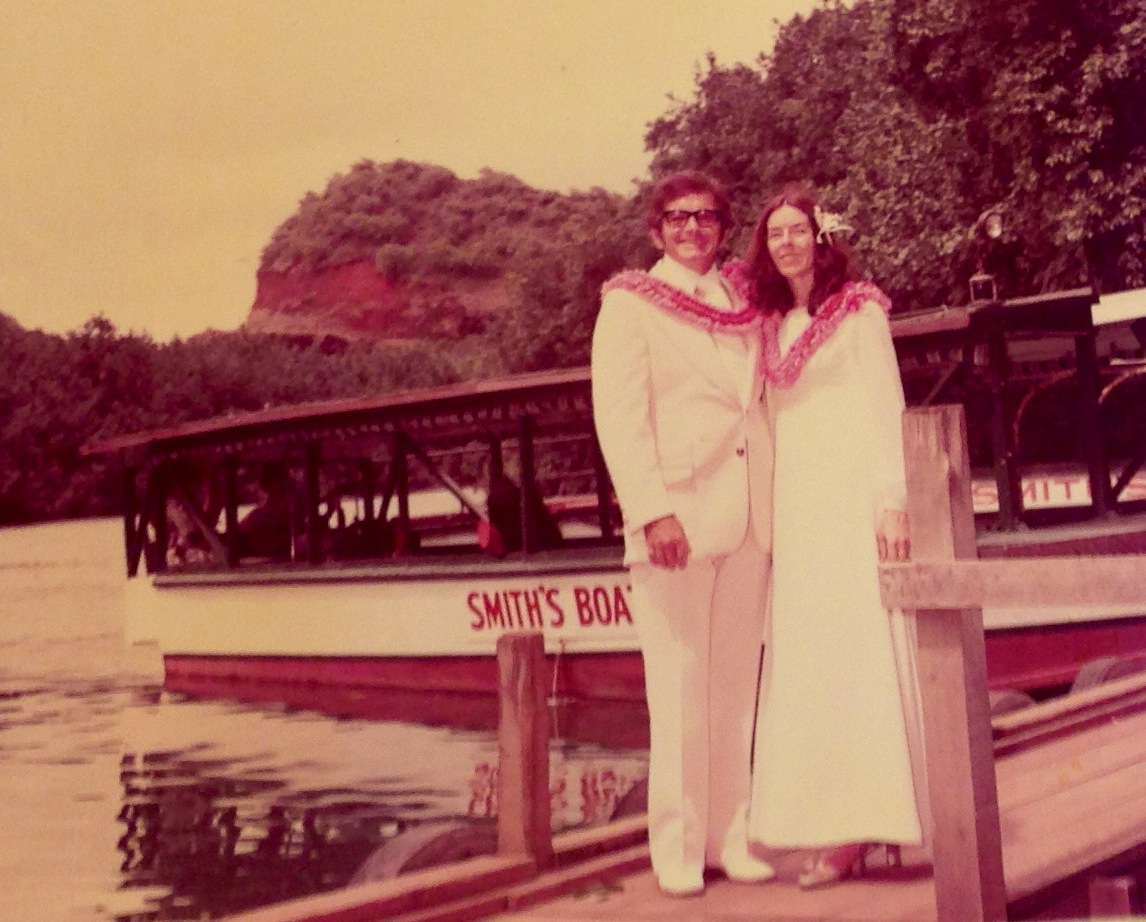 As we arrive one of the Smith Motor Boat Company's large tour boats is just boarding to leave. And, what do you know!  Out come their cameras to get a picture of this couple who have just arrived to be married!!!!!!  WE ARE CELEBRITIES!!!!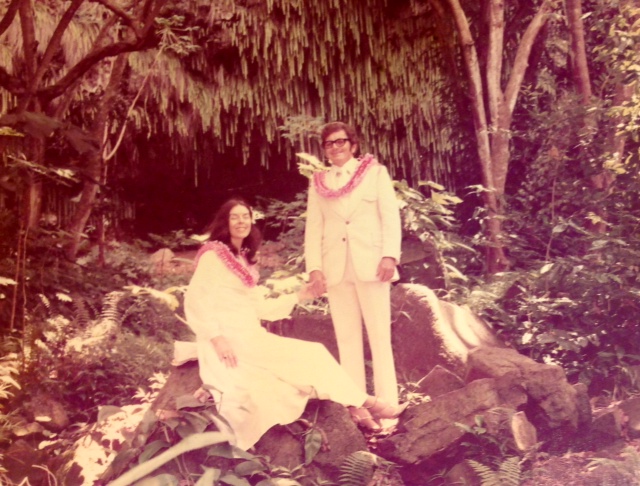 We walk through a beautiful garden area lush with plants, trees and exotic flowers on our way up to the world renown HAWAIIAN WEDDING CAVE.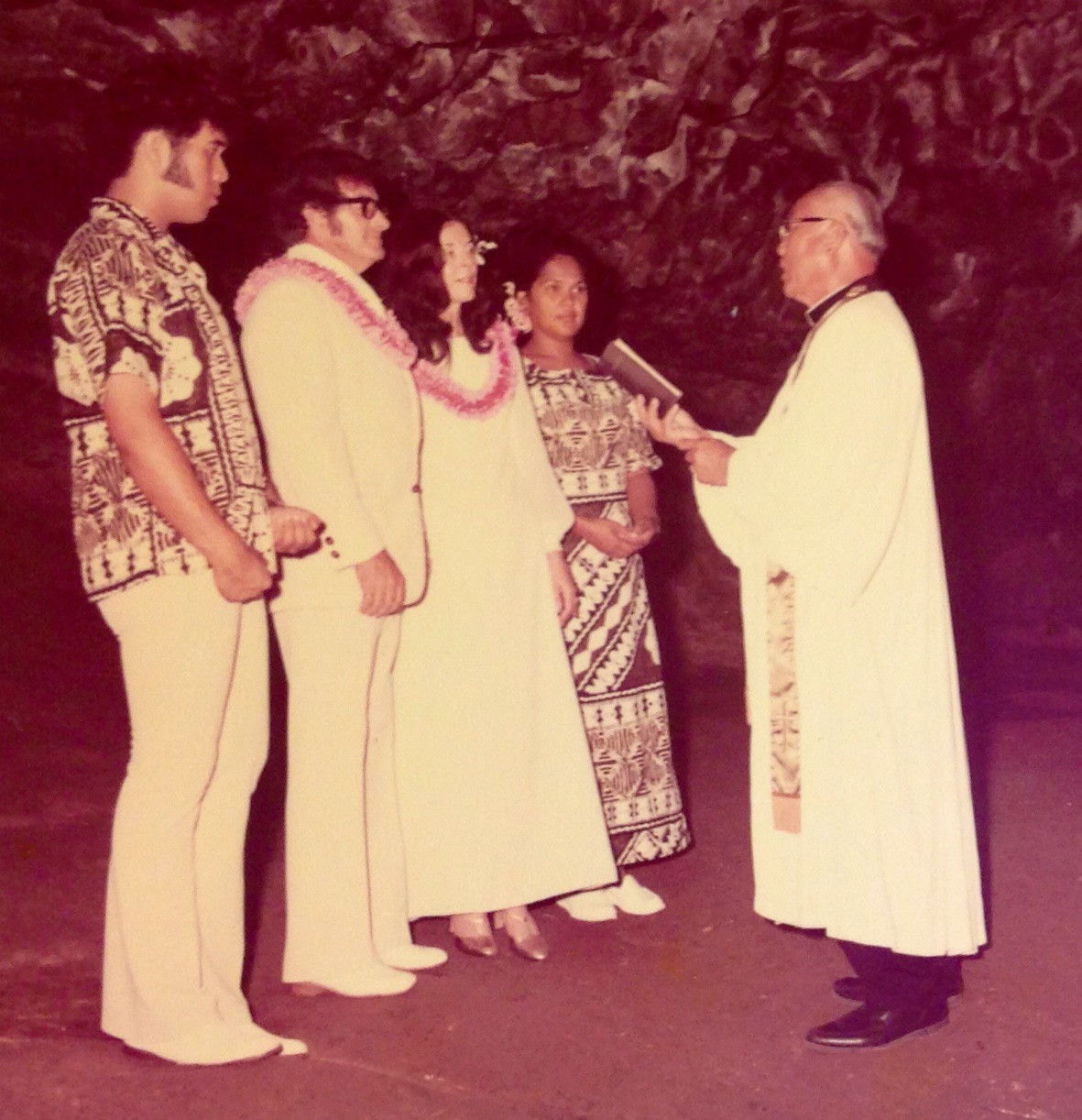 AND NOW……this is what we have come all this way for: With our Hawaiian attendants at our side, our Phillipino minister presiding, we take our wedding vows!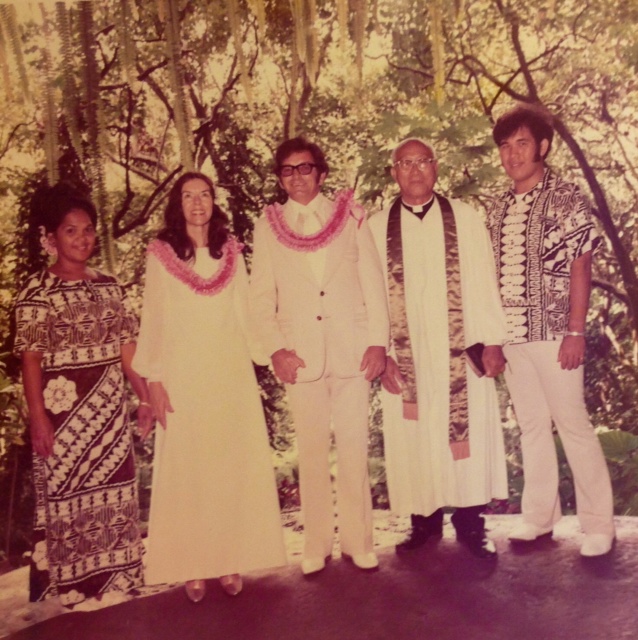 After the ceremony the minister stays with us in the cave, while the Hawaiian attendants go down into the garden and sing "THE HAWAIIAN WEDDING" song. It is too beautiful to even try to describe. So take a look at this!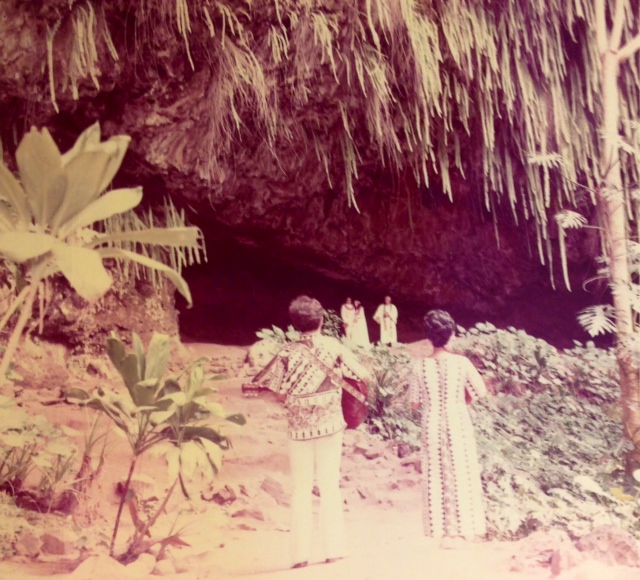 The photographer who accompanied us has brought fresh lavender orchid petals that our Hawaiian attendants joined by our Philippino Minister throw up into the air to lightly float down on us.  THAT PUT THE ICING ON THE CAKE!!!!!!!!!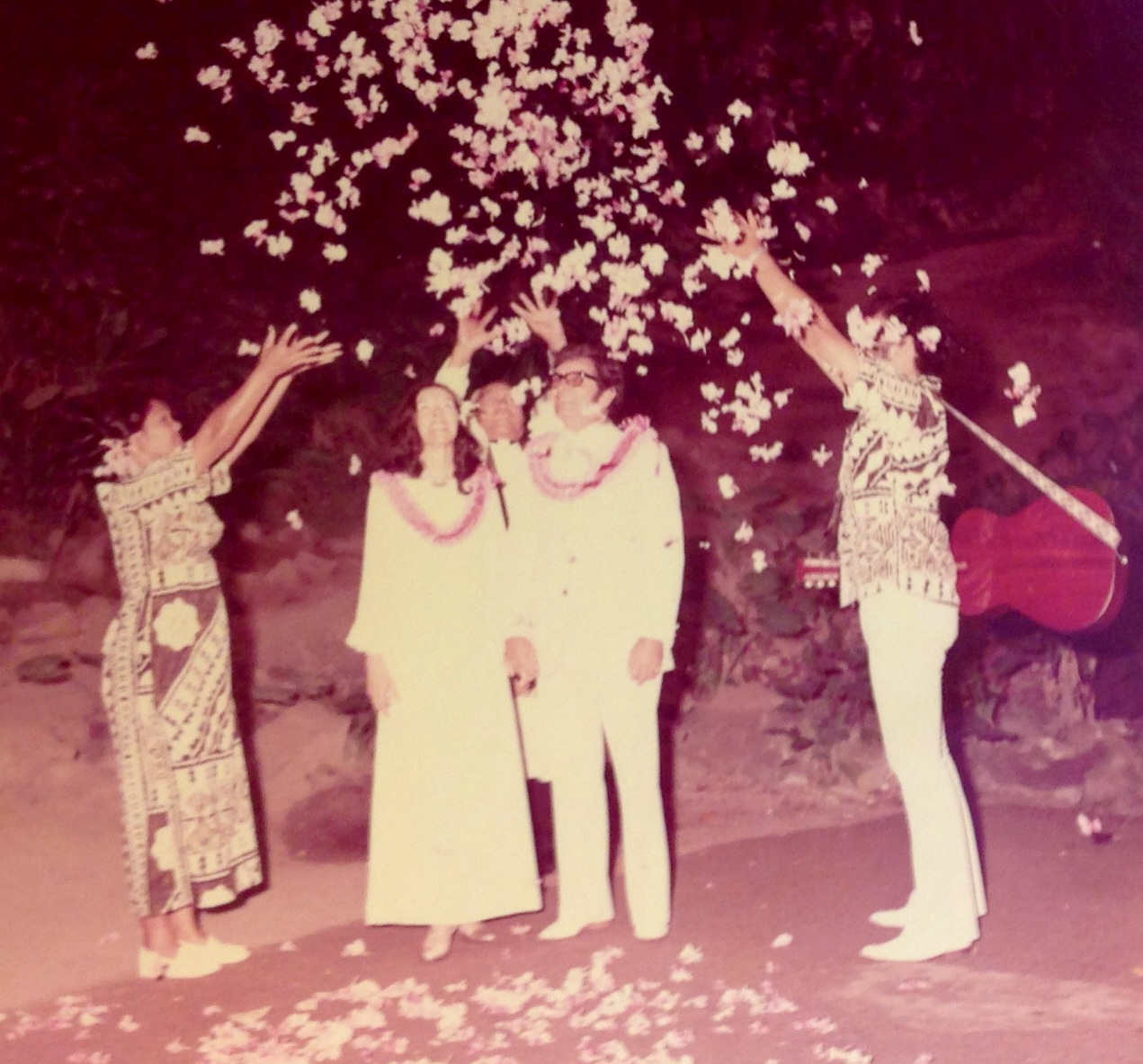 If all this beauty so far hasn't been enough, as we are just ready to board our boat, a large Smith Motor Boat Company tour boat has just pulled in and is unloading.   AND OUT COME THEIR CAMERAS!!!!!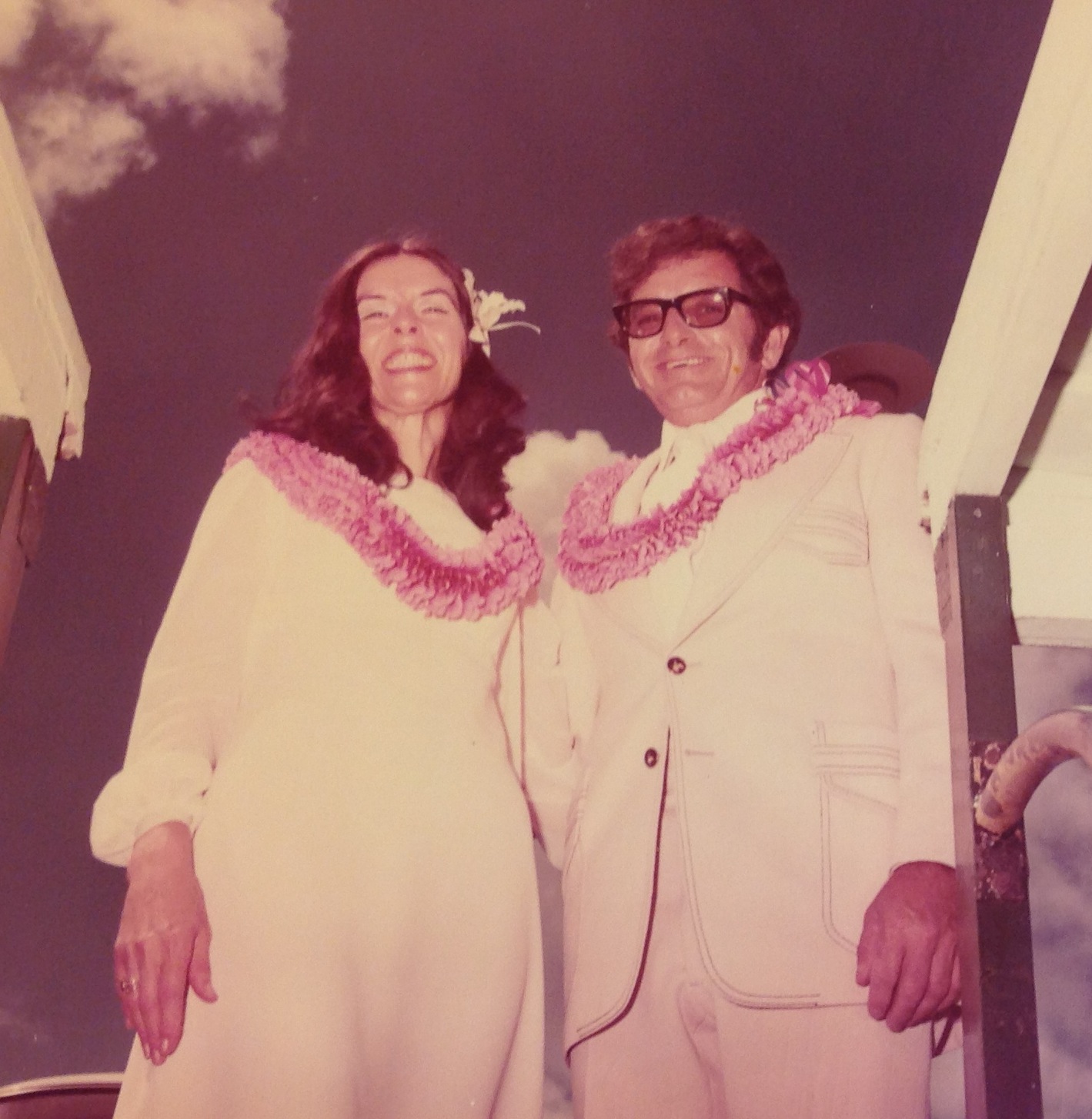 AGAIN………WE ARE CELEBRITIES
Does this all sound to you like a FAIRY TALE? I wouldn't believe it myself if I didn't have these PICTURES AS PROOF!!!!!!!!!
FRF ♥