Have you ever known anyone who had a complete facelift by a plastic surgeon? While I was selling Real Estate in Venice, Florida, which is something I did for eighteen years, a young lady from Missouri or Kansas, I'm not sure, asked me to show her some condos that were on the market.
As I was driving us to one of the condos I had selected, I noticed she had a scab above her lips. Although I hadn't asked her about it, she told me that she had just had a facelift by a Venice plastic surgeon who had scraped the skin above her mouth and it had not yet healed.
She said,"If you get a facelift don't have that done!" Since I had no intention of having one, I thought little about that advice.
A few months after that a lady, who had listed three of her properties with me to sell, called. She said she had just had a facelift by the plastic surgeon in Venice. She had a friend there preparing their dinner and asked if I'd like to join them. I was most happy to accept.
Apparently she wanted me to see how she looked and felt after having surgery. It was almost like she was giving me a sales pitch. I was surprised! She looked good! Her face was not all black and blue. She seemed to feel really good too! The stitches were still in. I couldn't believe how great she looked so soon.
Well, that sales pitch worked! I called the doctor's office and set up an appointment for a consultation.
As I am seated in his office, I tell him I only want a neck lift.
He asked me, "Why do you want that done?"
I replied, "Because every time I look in a mirror the only thing I see is my turkey gobbler neck."
He proceeded to tell me, "We could open up your eyes and take away that sleepy look, do a little here and a little there and I think you would like that". And…….you know what? I agreed to the whole thing, minus above my lips. So fine! We set a date!
He had a girl attendent and they put me to sleep. I had a girl bring me, who would be returning for me when I woke up. She stayed with me for two days and nights. The first night the doctor came to my home and checked to see that I had no excessive bleeding. My girl keeps putting a cold cloth over my burning eyes.
My face turns all black and blue. Within about three days it lightens a little and is also yellow and green. I am almost doing the rainbow!
However, one week later, after having all the stitches and clamps removed, my face looked healed enough that with makeup I attended our monthly Realtors meeting for the Venice area. I was membership chairman appointed by the lovely Maia Morrison, President of The Venice Area Board of Realtors.
So…….with much makeup on my face, I gathered all my courage, went up on the stage (yes it was raised) and asked all the new sales people, as I called out their names and the name of the office they had joined, to come up to be sworn in as Realtors, to take the oath of office.
As this procedure came to a close, our President Maia Morrison said very softly, "Would you tell everyone you just had a facelift one week ago today?" She is beaming at me! So amazed!
I declined! It was so dumb of me! All my office people, plus many others, had gone through the whole thing with me. But…….I just could not bring myself to stand there on that stage, look out at all those sales people from all the many Venice offices and say, "Hey all you guys and gals, one week ago today I had a full facelift!!!!!!!!!"
As I was outside going to my car, a girl came over to me and said,"You look different! Did you get your hair cut?" I said, "Yeh!" and got in my car and left.
AND YOU KNOW WHAT???????
I have always wished I had looked out at that big room full of sales people with a smile and said, "Hey, all you guys and gals, our lovely President has asked me to tell you that just one week ago today I had a full facelift!!!!!!!!!!!!!
As this little old fat man in a movie said to a young girl, "Don't be sorry for the things you did. BE SORRY FOR THE THINGS YOU DIDN'T DID!!!!!!"
Since I don't have before and after pictures of me to show you, this is the best I can do???????????????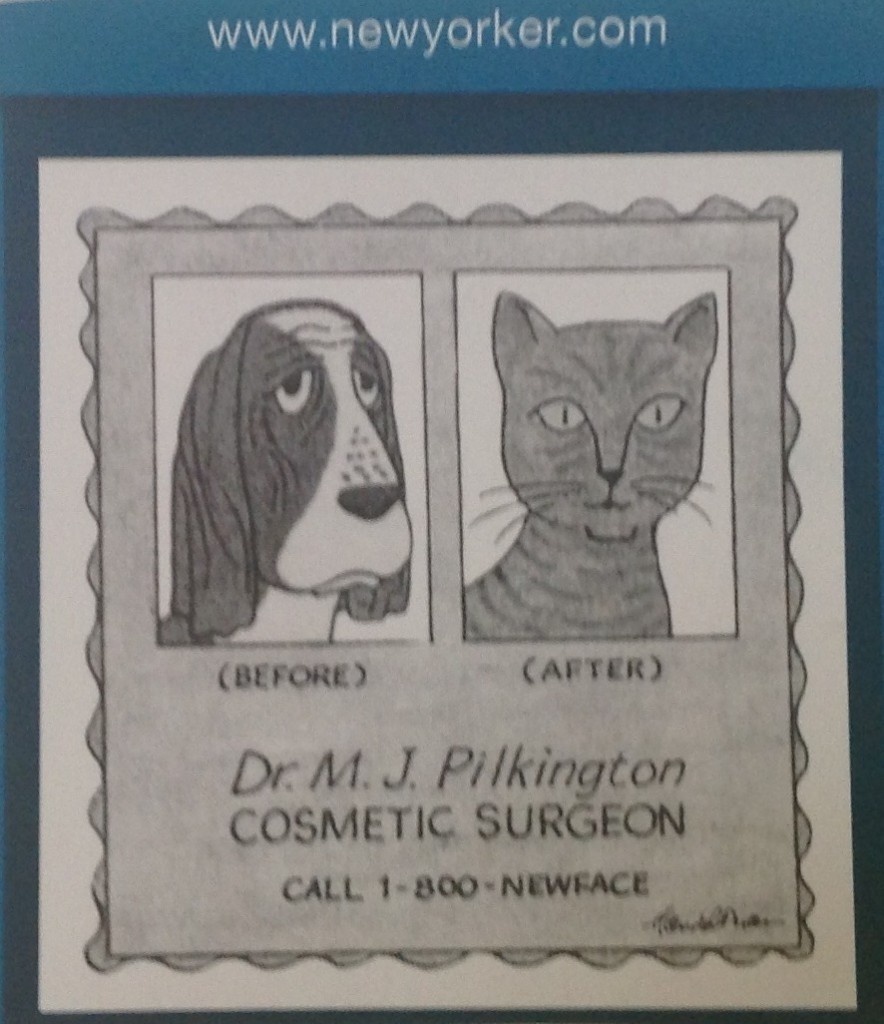 FRF ♥