I was more excited each passing day. My second grade teacher gave me an Easter treat early because I wouldn't be there when she gave them to my classmates.
After spending the winter of '29 and '30 in Pomona, California my mother, dad, and little four year old brother Bugs were coming home to York Center, Ohio. Well, actually, York Center beside my dad's stone quarry is where I lived with older brothers and sisters. Our parents lived on a farm seven miles away.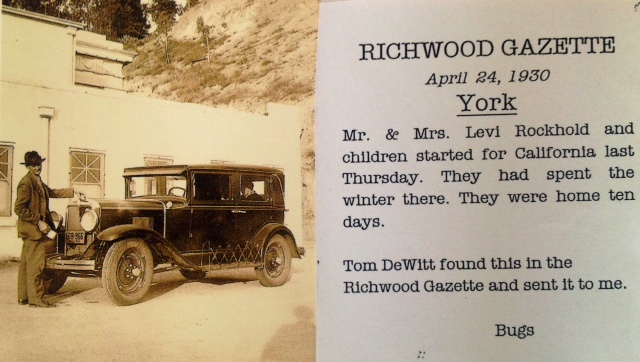 My excitement was that I and my brother Ernie were going back with them for a five month summer in their Pomona, California home. My dreams (daytime) of what it was going to be like to make such a journey were kinda crazy. I must have been born with a wild imagination. For instance, I was surely hoping our car had good brakes. Those Rocky Mountains had to be very scary to cross. I had heard my dad say that my mother was afraid when they went around the mountain roads.
That was enough for me to dream away. I could see us driving straight up to the top of the mountain and then straight down. You think that is a bit foolish? What did I know? No one ever told little insignificant me anything. And besides…my dad's rule was "children are to be seen and not heard". That means "don't go asking any questions"…and incidentally they took our older sister Edna and brother Bee along to take care of us. Ernie, Bugs, and me were called "the three little ones".
We didn't get far until even Federal roads were bad out through the plains and the mountains and fewer and fewer cars were on the highway. For our meals we purchased food at grocery stores that were few and far between. Back then there were only Indian Reservation stores. We would stop along the road and eat under a tree if we could find one.
When I went through again in 1942 each of these tepee homes had a Roosevelt outhouse. Honest to goodness! There they were! One beside each tepee.
We stayed over night in cabins built like sheds. No interior finishing and sparsely furnished.
I can remember us all sitting beside a tree for shade eating our meal when a car filled with a family went by. We all waved and smiled to them and they all smiled and waved to us. That gave us a good feeling that we were not all alone out there in the wilderness.
Then came the surprise in the road. We came up to a shallow river but there was no bridge going across to the road on the other side. Instead there sat a man on a tractor who hooked a chain to our car and pulled us across.
And at last those big beautiful Rocky Mountains. They were so majestic looking it just took my breath away. And…I didn't have to be afraid. We drove around through the foothills, back and forth on hairpin turns in the road until we reached the mountain pass, drove through then around and around again until we reached the valley below.
Soon came the desert in bloom, beautiful flowers of many colors as far as you could see in every direction. I learned in later years that this happens every April. My dad stopped the car and said, "I'm going out there and pick the prettiest flower". We all sat in the car and watched while he walked through that beautiful field of flowers. Then he stopped, reached for the flower that he had selected, turned and quickly came back to the car.
But…….he didn't have a flower! What he did have was a hand full of cactus thistles!!! We sat and waited almost an hour while our mother picked those stickers out of his hand using a needle. No one talked, no one laughed, no one even smiled!
After the desert in bloom we then came to sand only. At places the wind had blown sand over the road and we were following wheel tracks in that sand to know where the road was. As I'm straining my little seven year old eyes for those wheel tracks up ahead I notice the wind has blown sand over the tracks. Now my dad is just driving straight ahead hoping he was still in the road. It took a while but finally way up ahead I saw the wheel tracks. Now I could start breathing again. Just in time too! No one had said a word through all that. Not one word! Everyone just holding their breath. Well…everyone except my dad! Nothing seemed to bother him except those cactus thistles.
It took seven days of travel to reach our destination. Pomona was a lovely city about thirty five miles east of what even back then was called L.A. (Los Angeles).
We had a delightful summer with super neighbor kids to play with and right beside a school. Many little Mexican girls walked by and would sometimes stop to visit with me in the yard. I couldn't understand anything they said and they couldn't understand me. We just enjoyed being together.
We arrived back in Ohio in time for school to start. It was a fabulous educational trip for a seven year old in the year of 1930.
When my first daughter Susie was seven years old she went with my parents on the same trip I had made at the same age. She visited The Big Rock Candy Mountain in Utah and came home with a bag of rock candy. The west was becoming commercialized.
FRF ♥